Home >
Top Menu >
Beads >
Pandora Style Sterling Silver Bead with Loop for Charm - 10mm
We stock a range of Pandora style items in .925 sterling silver including beads, bracelets and chokers. They are also known as charm beads. Our range of Pandora style beads include gemstomes with .925 silver inserts and also .925 silver beads inset with crystals as well as .925 silver beads without crystals.
Use spaces to separate tags. Use single quotes (') for phrases.
Our products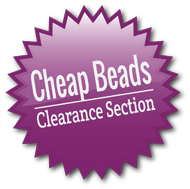 Too good to be missed!
£0.12 Excl. VAT

£0.10 Excl. VAT

WAS:£0.20

£0.12 Excl. VAT

£0.10 Excl. VAT

WAS:£0.25

£0.18 Excl. VAT

£0.15 Excl. VAT

WAS:£0.50
Compare Products
You have no items to compare.
Offers & Products