Home >
Swarovski Bicone Beads
Swarovski Bicone Beads
Swarovski bicone beads are multi-faceted glass crystal beads cut and polished to the usual Swarovski high standard. Swarovski crystals have a higher lead oxide content than normal crystal glass, refracting more light. The refracted light adds to the brightness of the "sparkle" of each bead. Swarovski bicone beads come in five different finishes: crystal effect, metallic effect, plain, opal and the rainbow-like effect of the AB crystal.
Our products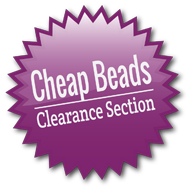 Too good to be missed!
£3.60 Excl. VAT

£3.00 Excl. VAT

WAS:£6.00

£0.36 Excl. VAT

£0.30 Excl. VAT

WAS:£0.60

£12.00 Excl. VAT

£10.00 Excl. VAT

WAS:£20.00
Compare Products
You have no items to compare.
Offers & Products