We stock different ranges of Black Gemstone Round Beads which are predominately black or grey in colour. These include Banded Agate beads, Black Lava beads, Black Onyx beads, Frosted Agate, Haematite beads and Snowflake Obsidian beads. Beads are sold in a string of approx 16" length except where stated.The number of beads on the string depend on the size of the beads. On our strings there are approx 100 x 4mm beads, 65 x 6mm beads, 50 x 8mm beads and 40 x 10mm beads.
Use spaces to separate tags. Use single quotes (') for phrases.
Our products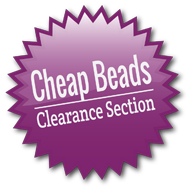 Compare Products
You have no items to compare.
Offers & Products