Home >
Pink Freshwater Pearls - 6mm to 7mm - 16" String
These dyed colour fast pearls are sold in a 16" string. We stock a range of freshwater pearls in a variety of shapes and shades. These freshwater pearls are genuine pearls produced under farmed and regulated conditions. The range of freshwater pearls includes round freshwater pearls, rice shaped freshwater pearls, potato shaped freshwater pearls and a number of other flat shaped freshwater pearls.
Use spaces to separate tags. Use single quotes (') for phrases.
Our products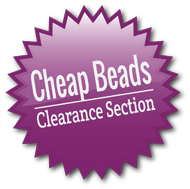 Too good to be missed!
£4.20 Excl. VAT

£3.50 Excl. VAT

WAS:£3.50

£0.66 Excl. VAT

£0.55 Excl. VAT

WAS:£1.10

£0.36 Excl. VAT

£0.30 Excl. VAT

WAS:£0.70
Compare Products
You have no items to compare.
Offers & Products