Mixed shapes and sizes. Sold in 50 gram packs with a small hole. We stock a range of Czech mixed glass pearls. The Czech mixed glass pearls are available in a variety of colour themes. The Czech glass pearls within a mix will vary by size and shape and the colour will vary within the colour theme them chosen.
Use spaces to separate tags. Use single quotes (') for phrases.
Our products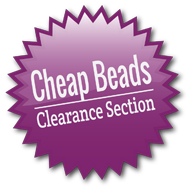 Too good to be missed!
£12.00 Excl. VAT

£10.00 Excl. VAT

WAS:£20.00

£3.60 Excl. VAT

£3.00 Excl. VAT

WAS:£6.00

£2.40 Excl. VAT

£2.00 Excl. VAT

WAS:£4.00
Compare Products
You have no items to compare.
Offers & Products